My Wedding.
Click on the photo for a bigger version.
On the 18th of December 1999 I married the love of my life, Lidia. Here she is coming into the church with her dad.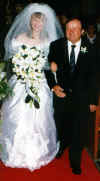 My grooms men and I all wore socks in the colors of our favorite teams.

We had the best flower girl.
All the girls looked great in their dresses. Bad luck Lidia was so beautiful in her dress and totally out shined them.

---